Photos by Marshall Altom
Most locals are familiar with Oakwood Cemetery near downtown Huntsville as the location of a large monument marking the resting place of General Sam Houston. In fact, the monument faces a roadway bordering the cemetery, so you can easily visit that site without exiting a vehicle or walking far; however, if you choose to only visit that place, you are missing out on a treasure trove of local, state, and national history within Oakwood, easily accessible, and well worth the time for a visit and reflection.
Huntsville was founded by Pleasant Gray in 1835. Gray donated the land for Oakwood in 1847, but burials had already begun at the location, with the oldest marked grave dated 1842 (Robert Goodloe Smither's infant daughter [December 6, 1841 – September 16, 1842]). One of Gray's sons died in 1853 at the age of 18 and is buried in an unmarked grave at Oakwood. The cemetery is also the final resting place of at least 126 Confederate soldiers, 6 Union soldiers, and many persons of historical prominence. We will note a few here: for even more information, check out the Oakwood walking tour online at www.facebook.com/Oakwood.Huntsville.TX
Thomas Carothers (1802-1866) – First cousin of Sam Houston; helped establish main road connecting Huntsville to Houston; Fourth superintendent of Huntsville Penitentiary.
Henderson Yoakum (1810-1856) – Friend of Sam Houston, lawyer, statesman, historian; helped establish Huntsville as county seat of Walker County; authored first comprehensive history of Texas.
George Robinson (1820-1888) – From Liverpool, England; began newspaper The Huntsville Item in 1850, and his family continued to publish it for over 50 years. Publication temporarily ceased during Civil War due to Robinson's service in the Confederate Army.
Sandford (1819-1886) and Sallie E Gibbs (1844-1918) – Helped establish First Methodist Church and donated land for TDCJ Joe Byrd Cemetery and railroad access to Walls Unit; major donor to help establish Sam Houston Normal Institute (later SHSU). Following Sandford's death, Sallie established Gibbs National Bank (now First National Bank) in 1890 and served as one of the first female bank directors in Texas.
Thomas Clifton Gibbs (1812-1872) – Partnered with his brother Sandford to establish Gibbs Brothers & Co. in 1841, the oldest business in Texas under continuous operation by the same family in the same location; home serves as current Gibbs-Powell Museum in Huntsville.
Col. John William Thomason, Jr. (1893-1944) – Huntsville native; joined U.S. Marine Corps in 1917 and served with distinction in WWI and WWII; the naval destroyer USS John W. Thomason was dedicated in his memory; authored Jeb Stuart, Gone to Texas, and Fix Bayonets!; his portrait hangs in the Texas Hall of Heroes in the state capitol building.
Jane Ward (before 1847-1931) – "Aunt Jane"; freed slave and known as the "Good Samaritan"; renowned for helping the poor and sick and cared for many in her home; managed a boarding house and worked as a laundress; organizer of annual Juneteenth Celebration.
Leonard Anderson Abercrombie (1832-1891) – Lt. Col. in Confederate Army; Commissioner of the Texas Penitentiary; as Texas senator, used influence to establish Sam Houston Normal Institute and appropriate funds for Old Main, completed in 1890.
Major John Henry (1828-1897) – Born in Canada of Irish descent; employed in Walker County by Confederacy to construct uniforms from fabric made at the prison; after the war, opened mercantile on downtown square in 1883, with Henry Opera House upstairs.
Marian Leigh (Rather) Powell (1881-1974) – Granddaughter of John Henry (above); taught at Sam Houston Normal Institute and wrote school song in 1910; first woman elected to local school board and served as county chairman of women's suffrage movement.
Along with husband Benjamin Harrison Powell III, purchased tract north of cemetery and dedicated as wildwood sanctuary in memory of their second son, Rawley Rather Powell, who died at age 5. Later commissioned and erected bronze Christus monument (known locally as Black Jesus due to tarnishing) by famed Danish sculptor Bertel Thorvaldsen.
Joshua Houston (1826-1901) – Servant to Sam Houston; after Civil War, owned several businesses and built first home in Rogersville section of Huntsville; worked to establish and finance First Missionary Baptist Church; elected county commissioner in 1882.
Samuel Walker Houston (1864-1945) – Son of Joshua; teacher; founder and principal of Sam Houston Industrial and Training School, later consolidated with Huntsville public schools to become Sam Houston High School.
Reverend Dr. Samuel McKinney (1807-1879) – Minister and professor; left east coast to move west as missionary to Indians; came to Texas in 1849 as a professor; served as first president of Austin College 1850-53, then served another term 1862-71.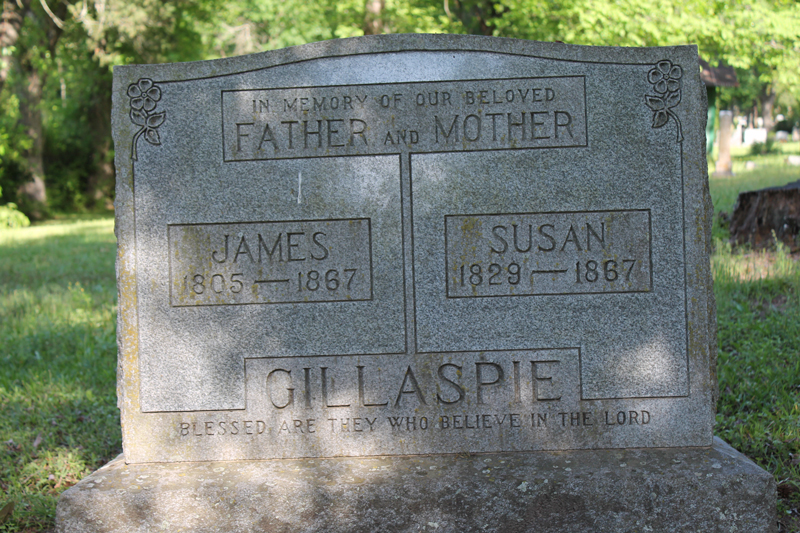 Captain James Gillaspie (1805-1867) – Organized 40 volunteers from Tennessee and came to fight in Texas Revolution; in military career spanning over 30 years, commanded and fought for Texas under three separate flags (Republic of Texas, United States, Confederate States); served twice as superintendent of Texas Penitentiary and helped establish Huntsville as permanent home of Texas Prison System.
Pleasant Williams Kittrell, MD (1805-1867) – Sam Houston's doctor at the time of the general's death; served in Texas legislature and authored and fought for bill to establish University of Texas at Austin in 1858; contracted yellow fever and died tending to the sick during local epidemic.
In 2004, an older area of Oakwood was cleared of heavy underbrush by an offender work crew from the Walls Unit. This led to discovery of a large number of sunken, unmarked graves. Some graves were likely those of slaves who arrived in the Huntsville area with early settlers. Since identification of the burials was not possible, the offender crew members themselves suggested the use of unlettered white concrete crosses. Material costs were shared between the City of Huntsville and TDCJ, and production of the crosses took place at the Walls Unit. Soon afterward, the Oakwood Cemetery offender crew installed the 155 crosses that now lend dignity to the final resting places of these unknown black residents of Huntsville.
When it comes to understanding and appreciating our rich, historical heritage, Oakwood is no dead end; rather, it is the beginning of understanding for those who take interest and time to learn. For the full walking tour, visit the Oakwood Facebook page noted above or check out their website: www.huntsvilletexas.com/166/Self-Guided-Tours