If you've ever been to the Texas Hill Country, you can visualize what makes this beautiful part of Texas so unique. When I think of my visits, all my senses recall this area in some way. I remember the smell of cedar, the hills rolling with cacti and patchy grass, and the rocky terrain from scarce rain. These things are what I feel, smell, and see when I think about my favorite part of Texas and the sweet memories I associate with it.
My family is from the coast and lives just a few miles from Galveston, so when we would travel to the hill country to visit our deer lease, it was always a getaway that promised different weather, topography, and adventures. The deer lease was in Kendalia, and every time we'd take a trip there when we were young, we'd make a trip to the Riverwalk in San Antonio, where the streets are full of culture and color. When we were hungry for a hot meal, we'd drive into Boerne for BBQ or breakfast tacos. A stop at the Kendalia Country Store is essential at least once a trip to stock up on snacks and to get a styrofoam cup of freshly made iced tea. Just an hour away from the deer lease is my aunt in San Marcos and my grandmother's lake house in Canyon Lake. On our drives to visit them while we were in the area, my sisters and I wouldn't let my dad hear the end of it until we pulled over on the side of the road in Fredericksburg to buy some peaches from a truck bed or wooden stand. If you've never had a Fredericksburg peach, you are truly missing out. The fleshy fruit dissolves in your mouth and you think to yourself, "If there ever was a peach to represent all peaches, this is it." I believe wholeheartedly they are the best in the world (and there's no talking me out of it).
Just a short drive away from the deer lease, the possibilities were endless. We could explore Gruene, Boerne, New Braunfels, Fredericksburg, and Canyon Lake, just to name a few locations in the area settled by Germans long ago. The scenery between towns is rolling hills, winding roads, and big Texas skies stretching above them. When I got my driver's license at 16, this was the ultimate game changer—the freedom and ability to explore and travel—driving to the deer lease and lake house to explore this beautiful part of Texas whenever I could. I started burning up the roads and never stopped.
During a weekend this past summer, my friends and I stayed four days on Canyon Lake. To say we were exhausted afterward is an understatement—we burned the candle at both ends and covered a lot of ground, but I warned them—I was so excited to share with them this place that was so dear to me.
Our first day there, we pulled into the neighborhood that borders Canyon Lake, and my friends were amazed at the big groups of deer wandering casually across roads and grazing in people's front yards. Here, it is perfectly normal to look outside your window and see 20 deer only a few feet away. Here, deer are like squirrels. My friends couldn't believe how many were walking around, not minding us a bit; as you can imagine, all the phones came out and started taking pictures. Judging by their reactions, you'd have thought we were on an African safari or something. Their excitement was hilarious!
Our second day at Canyon Lake, we stopped at a farmer's market with signs for half a mile before the entrance, reading "peaches"…"squash…"tomatoes"…"bread", every 50 feet or so. We parked and got out with anticipation; we were greeted with baskets of fresh, locally grown fruit. Inside are shelves of fresh produce, home-canned jams, breads, cookies, pickled items, cornbread mixes—a plethora of handmade, specialty items you can't get anywhere else! I sigh and take it all in. I imagine this is what heaven looks like. I accept the fact that my wallet is about to take a hit, and it did 15 minutes later, as I filled my brown paper bag at checkout with sourdough bread, tea, apple butter, homemade cookies, cornbread mix, and of course, a basket of peaches. My favorite form of nearly everything is either homegrown or homemade, and, boy, does the Texas Hill Country hit the spot in that area!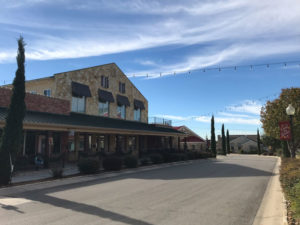 Aside from farmer's markets and shops, we need something else. Ultimately, we crave entertainment, young or old. But since summer is over and it's getting cold outside, what is there to do in the area besides float the Guadalupe River? WHAT on earth can your family do for entertainment in the hill country when it's far too cold to do anything in the lakes or rivers?! Well, there is quite a lot to do, and it is my pleasure to share my personal favorite places to eat, shop, and explore in the beautiful Texas Hill Country!
To tell you the best places to go across the entire hill country would take more space than we have, so I'll narrow it down to my two favorite towns—Canyon Lake and Gruene. The laid-back town of Canyon Lake is home to my grandmother's lake house and some of the neatest places I know. If you're in the area and your belly is growling for some good food, stop by Startz Café or Las Barcas Mexican restaurant for a homemade meal. For your shopping needs, there are multiple river supply shops to pick from, as well as fly fishing shops, cafes, and antique shops. Pink Elephant Resale Shop is a great stop for used fashion and vintage accessories. For my fellow coffee lovers, there are many mom and pop coffee shops dotting the roads. My new favorite is Kafekali and Bakery. I recommend an iced macchiato and a raspberry or blueberry danish, made in house (heavenly).
On my most recent trip to stay in Canyon Lake, it was the weekend of December 9th, just a few days after Huntsville and much of Texas got snow. Perhaps this miraculous blanket of white put us Texans into holiday spirit mode, because the town of Gruene was alive and bustling with holiday cheer. Christmas decorations lined the streets, and lights shimmered from the roofs of restaurants and inns. People walked the streets in festive clothes, wearing jackets to break the chilly wind. A long line of parents and their children were wrapped around a building. Wondering what the fuss was about, I saw above the line a sign reading, "This Weekend: Photos with Cowboy Kringle." Sure enough, at the front of the line sat Santa in his suit, wearing cowboy boots, a child atop his lap.
Finally, there is something for everyone in Gruene, Texas. In particular, the Gruene Historic District is packed with history, energy, amazing food, wineries, and most anything else your little Texan heart could hope for! A few of my favorite shops are Rusty Bugs & Roosters, Hunters Junction, and Traveling Gypsy Antiques. If you're a true Texan, you've probably visited Gruene Hall; at night, the band can be heard outside by passersby, and during the day, visitors are welcome to go inside and check out the iconic dance hall where so many musicians have performed.
Next door sits the Gristmill, one of the most unique restaurants in Texas. The multi-layered balconies open toward the river, overlooking the beautiful woods, with seating both inside and out. Down the road, on the corner of the street, sits Cantina Del Rio, an authentic Mexican restaurant offering some of the best enchiladas and quesadillas I've ever had. Across the street from these incredible restaurants sits the Gruene General Store, a haven stocked with Texas memorabilia, canned salsas, gifts, and treats. Just down the road from Gruene Historic District sits Gruene Lake Village, home to High Cotton Inn, Two Rivers Yoga, Lil Connie's Cottage Children's Boutique, The Republic Cigars, and Allen Benjamin's Salon and Spa, to name a few.
Being home to such a wide array of climates and terrains, Texas is an amazing state to drive across. I have always loved seeing the changes in landscape on long road trips across the state. The Texas Hill Country, in particular, has a unique terrain that somewhat makes you feel like you're not in Texas anymore. The rocky hills and dips in the earth kind of take you somewhere else, and the beauty elevates the soul. There is no place like home, and there is no place like Texas!  Hopefully, my itinerary can help during your next visit to the Texas Hill Country. Explore on!