If you have never been to Moody Gardens, or you haven't been lately, you are missing out! Moody Gardens, which opened in 1986, is a tourist destination with a golf course and hotel in Galveston, Texas. The public, non-profit educational destination utilizes nature in the advancement of rehabilitation, conservation, recreation, and research.
'Walk Like an Egyptian' Through the Pyramids
Moody Gardens features three main pyramid attractions: the Aquarium Pyramid, which is one of the largest in the region and holds many species of fish and other marine animals; the Rainforest Pyramid, which contains tropical plants, animals, birds, butterflies, reptiles, and a variety of other rainforest animals including free-roaming monkeys and two-toed sloths; and the Discovery Pyramid, which focuses on science-oriented exhibits and activities.
The Aquarium Pyramid, fresh from a $37 million transformation, features 1.5 million gallons and 10,000 marine animals. Newly added are a second, warmer climate penguin habitat; a conservation lab, where visitors can interact with aquarium staff as they perform water quality tests, necropsies, and grow algae in this working lab of the aquarium; and the Gulf of Mexico Rig Exhibit, illustrating the balance of technology and nature through a two story, scale model oil production platform aquarium. There are also opportunities for interaction, allowing visitors to touch jellyfish and stingrays.
The Rainforest Pyramid, 10 stories tall and containing over 1,000 species of plants and animals, allows visitors to interact with a true rainforest setting. It hosts a myriad of life commonly found in Asian, African, and American rainforests. A 300-foot long treetop canopy gives guests a "birds-eye" view and multi-level experience to the journey. The Rainforest Pyramid had a $25 million restoration following storm surge damage from Hurricane Ike.
The Discovery Pyramid contains traveling exhibits and the ride film (motion simulator), which currently features Spongebob Subpants, a deep-sea submarine voyage. Enter a world of immersive 3D media, a torrent of special effects and a nonstop whirlwind of surprises! With an improvised, real time interaction with Patrick Star, and varying destinations, your adventure is never the same twice. Current exhibits are JAM: Journey Through Amazing Music, a look at the science of music, and Dinos Alive!, featuring 15 life-like animatronic dinosaurs, including a full-size Tyrannosaurus Rex.
Dinner and a Movie
If fast food is your 'crave,' stop in at the concession stand. Or, enjoy a sit-down meal in the Garden Restaurant. Enjoy the buffet, or order from the menu!
Moody Gardens offers two full feature theaters.
The MG 3D Theater features the world's first giant-screen 4K 6-Primary Laser Projection System. Already with the largest screen in Texas and top-of-the-line surround sound system, this state-of-the-art 3D viewing experience gives guests a fantastic viewing experience. The 4D Special FX Theater has 3D projection, audio and show control systems along with wind, seat sensors, leg ticklers, scent, misters and snow to put you in the action.
Outdoor Land, Sea, and Air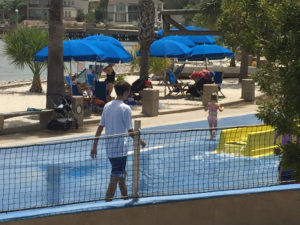 Palm Beach has been expanded to a full use water park. The water park features Aquarium Adventure, a group of slides with a dump bucket, a wave pool, a lazy river, Tower Slides (two water slides), and Splashpad, the toddler section of the water park. The artificial beach is made with white sand and is situated in the Galveston Bay.
Take to the bay on the Colonel, a replica of an 1800s paddlewheeler. Hour-long cruises are offered daily (weather permitting), and dinner and private cruises are available for large groups.
In May 2014, Moody Gardens opened the tallest steel ropes course on the Gulf Coast. The Sky Trail Ropes Course is five stories tall – standing at 81 feet (25 m) tall – and features 48 obstacles (or "elements") with the obstacles gradually getting harder with each tier. The Moody Gardens Zip Line is 500 feet long and is connected to another steel tower located at the far end of Palm Beach next to the wave pool – suspending visitors 60 feet above Palm Beach, allowing them to get a bird's eye view of the Moody Gardens pyramids and tropical gardens. The ropes course and zip line are open year-round during the weekend and on weekdays during school holidays.
Moody Gardens also features the Sky Tykes Ropes Course for those under 48 inches tall. It has 9 obstacles (or "elements") and is situated on one level. The open course design allows for easy parent participation for any level of assistance needed. Parents can also walk alongside their child.
Each participant (adult and child) is outfitted with a full body harness and a safety lanyard or sling line. This unique system also allows participants to choose their path through the course while going at their own pace with the ability to pass other participants at each platform.
Festival of Lights
Each November and December Moody Gardens hosts the Festival of Lights. A mile-long trail features one million lights themed to holiday music with live entertainment and an outdoor ice rink. Additional attractions include holiday films at the MG3D Theater, 4D Special FX Theater and Ridefilm Theater. A holiday buffet is featured in the Garden Restaurant, and the Colonel Paddlewheel Boat offers evening cruises.
Surrounded by 25 acres of indoor and outdoor gardens, a hotel with spa, a golf course, and dining and gift shop options, there is something for everyone at Moody Gardens. Tickets are available by the attraction or combined as a day pass. Individual and family memberships are also available, offering discounts and special events access.
One Hope Boulevard
Galveston, Texas 77554
1-800-582-4673
moodygardens.com