Submitted Photos
Conroe native Parker McCollum is someone we could easily describe as "the whole package." He's handsome and confident, but not pretentious. He's talented and smart, yet still humble. He's an old soul with a laid-back Austin vibe and can write a heartbreak song that is sure to strike a chord with anyone who has ever loved and lost. Wrap that up with a slightly mischievous smile, a tucked-in t-shirt and a mamma-raised-him-right "yes ma'am," and you have one of the hottest new acts in country music. Postcards Magazine recently visited with McCollum on his tour bus outside Shenanigans & Confettis Beach Club in Huntsville. The 26-year-old Misunderstood singer shared stories about his childhood in Conroe, the moment he thought about giving up, and an incredible year that put his brand of honest country music on the map.
What was life like growing up in Conroe?
Growing up in Conroe was pretty normal. Back then, it seemed more like a small town, but it has grown so much over recent years. My parents and grandparents all went to Conroe High School. My family has been there a long time. My brother is six years older than me and was always writing and singing and playing guitar while I was growing up, so that's how I got into it. I was always singing country music.
I remember my mom would get so mad and say, "How can you remember the words to a song after hearing it one time, but you can't remember your multiplication tables?"
Who were some of the singers that influenced you at an early age?
The first people I remember hearing were Porter Wagoner and Johnny Cash, in my aunt's car; of course, my cousins thought it was weird, but I remember always connecting to that music.
By the time I was in junior high, I got into guys like Hayes Carll, Chris Knight, and Adam Carroll; and then Ryan Bingham and the Turnpikes came along (Turnpike Troubadours). I was a huge Pat Green and Randy Rogers fan, too; and now Randy Rogers manages us, so that's cool.
When did you decide to pursue music as a career?
I got my parents to let me go to a community college in Austin just so I could move there, because I knew I wasn't going there to go to school. I went a little bit the first year—not a whole lot. I was in Austin about two years before I started getting serious about music.
You had your first taste of success in 2015 with your debut album, The Limestone Kid, and now your sophomore album, Probably Wrong, has really launched your career. Was there ever a time that you thought about giving up?
One day when I was picking up copies of The Limestone Kid, I was outside the guy's house who printed them, and he wasn't home yet.  I called my dad—because I was having a moment—and said, "What am I doing?" He said, "I don't know, but you need to make up your mind right now. You're either gonna do it or figure something else out and stick to it." I said, "Never mind. I'm going to do this." I never looked back. 
What drives you to keep pressing forward in this business?
I just want to be a songwriter. I don't connect to songs that aren't super honest. When you hear a song, you know right away whether you buy it or not. I just always felt I could deliver that. I'm not saying I'm a really good songwriter, but I'd like to be one day.
What is your songwriting process?
I put large Post-it notes on the walls with my ideas on them. I stand up, walk around and play guitar—it's really weird, but it works. When I was writing songs for Probably Wrong, I would go to my brother's house to write, because he would work all day, and I had a roommate. Hell of a Year was the last song I wrote for the album, and I wrote it in a Whataburger parking lot in Austin at 2 or 3 in the morning. I had the guitar picking part, and I just started singing the words. I drove back home and finished it.
Misunderstood has been a huge hit. Are you surprised how much attention and airplay it has received?
Yes. It was kind of the sleeper song on the record. I don't think anyone really expected it to do so well or become anything, but it has become a fan favorite.
You are managed by Randy Rogers, someone who has made a name for himself in Texas Country Music for 20 years. How did that relationship come about?
We were playing in Corpus Christi with Kevin Fowler, Cody Johnson, and Randy Rogers. There were three tour buses and our little van. This dude walks up in a Texas Rangers ballcap, shorts, Gucci shades and a gold chain, and I knew it was Randy Rogers, but I had never met him before. He hopped in the van and immediately started telling stories—I don't think he even introduced himself, which was really cool. Then, when we started playing, he stood on the side and watched our whole show. Afterwards he said, "We really like what you're doing and want to be a part of it." There was no question in my mind that I wanted him to manage us. I had listened to him my whole life; it was the best decision we have made—hands down. The advice he has given me—how to carry yourself in this business, how to pick who you work with and who to let in your circle—has been amazing. I joke and call him Daddy. He hates it and tells me to call him Big Brother.
Let's talk about your brand. How would you describe your sound?
I don't really think about our sound. It's something that is just natural and honest. I can't fake it, which is kind of a blessing and a curse.
What about your look?
My tucked in t-shirts? Well, I'm not good at dressing myself. I wear Target shirts and Wranglers or Levi's, but when a guy that lives near me gave me this cool belt from where he works, I started tucking in my t-shirt—a full tuck—it's a way of life (cue the mischievous grin).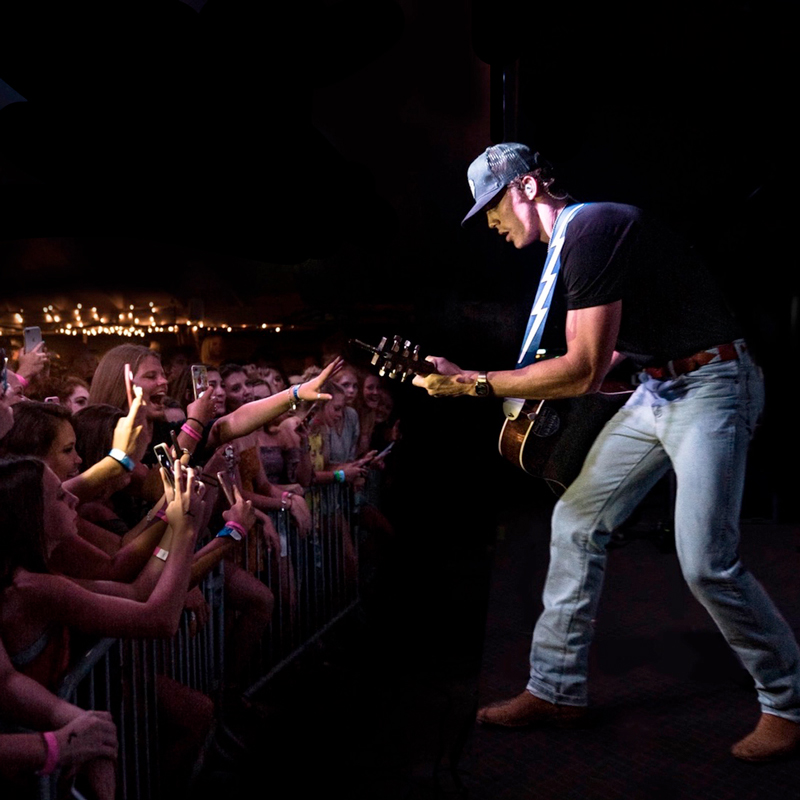 Any unique habits we should know about?
I used to drink pickle juice on stage every night because it's good for your vocal chords, but I quit. I thought—what if I get a weird disease from drinking too much pickle juice?
What does your family think about your success?
My mom thinks it's really cool. My dad and stepmom are blown away. My brother is very supportive and is about to pursue music, too. He is super talented and a way better songwriter than I am.
This past year has been remarkable for your career. How would you sum it up?
We got our first tour bus—that's probably the coolest thing I will ever do in my whole life. We got to tour the west coast with Randy Rogers. We signed a publishing deal with Warner Bros.—it was wild. And it was the greatest deer season of my life, no doubt. It was insane. I was on the ranch in East Texas that I have been hunting on my whole life, and the biggest deer I have ever shot walked out 20 minutes after daylight—after I had been sitting out there Monday, Tuesday, and Wednesday by myself. That deer walked out, and it was worth the wait.
McCollum has now begun writing songs for his third album and said he is approaching it the only way he knows how—with honesty, and a room full of extra-large Post-it notes.
Don't miss your chance to see Parker McCollum in concert. Visit parkermccollum.com for tour dates.