Photos by Gina Turner
While growing up in northeast Houston, Eddie Gardner couldn't wait to get his first car. He was always mechanically inclined, so he saved the earnings from his job at a hamburger stand and bought a broken-down 1960 Studebaker from his girlfriend's father for $75. With his father's help, Eddie and some friends got the car running. "It was pretty rusty," he recalls. "I sanded it, and my dad told me if I would save my money and buy a gallon of black enamel paint, he would buy a good paintbrush. We painted that car black with a paintbrush in our garage." He later sold it, and other cars followed, including a Mercury Comet, a Mustang, and a Ford pickup truck. "I had a lot of clunker cars back in the day," he says, "but I have always had an old car of some kind."
Notes in mailboxes
After retiring from the communications industry in 2008 and RVing with his wife Ann for a few years, the couple moved to Walden on Lake Conroe. Eddie was then the proud owner of a 1932 Ford 3-Window Coupe and was always on the lookout for other classic cars. In 2014, he began helping his daughter Kristie Hyde and granddaughter Kendall Hyde with a Madeley Ranch Elementary School fundraiser called Flags over Montgomery. While placing flags in the yards of Walden residents on patriotic holidays, Eddie noticed lots of classic cars. He thought it would be fun to get together with the owners to socialize and talk about cars, so when he spotted classics, he left notes in the owners' mailboxes and included his contact information.
"I knew I didn't want to start a car club, per se, with a president and officers and meetings and fees to be paid," Eddie says. "I just wanted it to be a group where people can come and go as they please, socialize with like-minded people, and discuss cars." Other classic car owners seemed to like the idea, and some who found notes in their mailboxes called Eddie. In the spring of 2014, four classic car owners and their wives began meeting regularly for dinner. They parked their classic cars at the Texaco station on Walden Road while they ate, and their cars often attracted admirers. Word spread, and soon more classic car owners joined the group. Eddie's across-the-street neighbor, Bill Webb, was so jealous of the classic cars, he bought a 1957 Chevrolet and asked Eddie, "Now can I join the group?" Four cars then became five, then 10 and 15.
"We outgrew that spot," Eddie says. "We started going to Magnolia Diner every Friday morning just to get together and drive our cars and have something to do, have breakfast and discuss the events if there was a car show or a swap meet out at the Conroe Convention Center." (The group's spot is now marked with a framed 105 Cruisers T-shirt.) Members of this informal organization also began meeting in downtown Montgomery on Saturday evenings, parking their cars behind the O'Reilly Auto Parts store (near the intersection of State Highway 105 and FM 149). Eddie dubbed the group "105 Cruisers," but in keeping with his vision of having no officers and no dues, events were never called "meetings." They're just get-togethers, Eddie insists, or, as he likes to call them, "cruise-ins." Classic car owners stroll through the parking lot, mingle, and admire the cars. Some sit in lawn chairs and chat. There are cruise-ins every Saturday evening throughout the year at about 6 p.m., weather permitting. "No matter what you drove, we will talk about it," says John Anderson. "This is about as much trouble as we can get in at our age."
When car shows and other events became scarce during the pandemic, the group continued to grow. Attendees come from throughout Montgomery County, and many drive from Spring, Conroe, Magnolia, The Woodlands, and Willis to participate. While a typical Saturday cruise-in includes 30 to 40 cars, a record 67 cars were in attendance on October 3. Some of the car owners probably heard about the get-together from the 105 Cruisers' Facebook group, where information is provided for followers—all 870 of them. (Eddie was diagnosed with amyotrophic lateral sclerosis (ALS) in March 2019, and although he is no longer physically active, he still maintains the 105 Cruisers' Facebook page with help from friends, who attend events and send him photos.)
Cars, cars, cars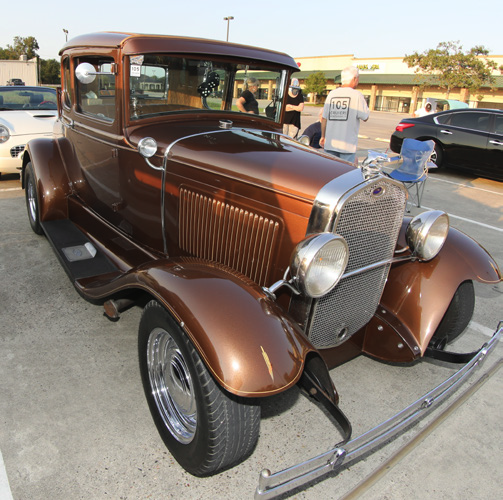 Among the attendees on October 3 was Earl Walker, who owns a 1930 Model A Coupe. "There's only two things I love more than the car: my wife and the dog," he says. "I don't have a dog anymore, so the car moved up a notch."
Bud Welch arrived in his 1932 Ford 3-Window Hi-Boy Coupe, so-called because it has no fenders. Starting with only a frame and suspension, Bud found parts over the years and rebuilt the car himself. "I started in 1993," he says. "It took me 20 years to rebuild it."
John Edelstein drove his 1963 Triumph TR4 to the gathering. John, whose 1964 Amphicar was featured in the August 2018 issue of Postcards, also owns a 1964 Chevrolet El Camino. He has no desire to drive new cars. "I buy my wife new cars," he says. "The early 60s era, for me, is the car that has style and one that I can keep on the road. They're inexpensive to maintain, easy to repair, and fun to drive."
Bob Schroeder, driving a 1957 MGA, says he rarely misses a cruise-in. He also owns a 1953 Willys Jeep, a 1958 Lincoln Continental, a 1989 I-ROC-Z Camaro, and a 1966 Chevrolet Malibu. He and his wife Kathy only own convertibles. "Kathy likes cruising with the top down," he says. Bob first heard about 105 Cruisers from Eddie several years ago and decided to attend. "I stopped and walked around and looked at cars. In a short time, I made friends. I really enjoy it," he says, noting that it's a relaxed environment with no loud music. "It's a more mature crowd, more family-oriented. There is good camaraderie. It's a lighthearted group of folks."
John Hall drove his rebuilt 1966 GT Fairlane from College Station. Surprisingly, he is the original owner of the vehicle. He bought it new in 1965. He drove it for five years and raced it for six years before passing it down to his son J.L. to drive to Westfield High School from 1982 until 1985. (J.L., after working on the vehicle for years, became a master technician with Ford Motor Company.) Then, the car sat for 25 years in a storage building behind John's house until he decided to rebuild it. At first, he planned to maintain its original mechanical specifications and candy apple red color, but then reconsidered. Although he acknowledges it would probably be worth more if he had restored it to its original condition, he says, "I couldn't see putting all that money in it and not upgrading it." So, he ditched the original 325-horsepower engine in favor of a 560-horsepower, supercharged Cobra engine. John teases his wife Lanell about her lack of enthusiasm for the project. "She gripped the whole time this car was being rebuilt," he says with a grin.
Some people, including Bob Fitch, drive to cruise-ins in cars that are not classics. Bob used to own a 1995 Camaro Z28 but is currently without a classic car. He comes to cruise-ins anyway. "I like cars," he says," and I like the fellowship."
Vehicles that are at least 25 years old are eligible for Texas classic car plates. For more information about 105 Cruisers, visit its Facebook group at www.facebook. com/105-Cruisers-242398329266467.