If the often muddy waters of Galveston don't light your fire, consider a trip to Destin, a panhandle city on Florida's Emerald Coast—aptly named, because Destin is known for white sands and emerald waters. The unique sand comes from the Appalachian Mountains, and is made of finely ground quartz crystal giving the appearance of sugar. Residue flows down the Apalachicola River and is deposited into the Gulf of Mexico. The city is located on a peninsula separating the Gulf of Mexico and Choctawhatchee Bay. The peninsula was originally a barrier island, but hurricanes and sea level changes gradually connected the island to the mainland.
With humble beginnings as a small fishing village, the community has grown to a respectable size. Visitors play a large part in Destin's economy – the city's population of around 12,000 balloons to more than 40,000 during the tourist season, with over 3.6 million visitors per year! Having not visited in a number of years, we decided to take a return trip.
Lodging
Options abound for your stay. In addition to hotels, large and small, condominiums and beach homes abound, many of which are available for rental. Whether you are looking for a budget or a luxury stay, there is something to fit your bill, including many waterfront options.
Activities
If you aren't looking for isolation, this place is for you. Water activities abound, with fishing, sailing, swimming, snorkeling, jet ski rentals, dolphin cruises, sunset cruises, fireworks cruises, and even a pirate ship cruise! Waterways in the area can be crowded, so take care if you choose to pilot your own vessel. And, if you get tired just reading this long list of water activities, you can always just catch some rays on the beach. A popular access point is Henderson Beach State Park. With three large pavilions that are handicap accessible, it's also a great place for families to gather.
For landlubbers, there's plenty to do ashore, as well. The area is known for great golf courses, and there are numerous attractions appealing to visitors of the younger generation. Check out Big Kahuna's waterpark, play miniature golf, drive go-carts or dune buggies, or lose yourself in an arcade or an escape room. Spend time on the Boardwalk, take sand castle lessons, take a hike, visit an alligator park or a museum. During our visit, we enjoyed a WWII airshow and fireworks over the harbor!
If water and land activities haven't tuckered you out too much, take to the air via parasailing or a helicopter tour to get a birds-eye view of the beautiful water and landscapes.
Food
No shortage of options here, either. We certainly don't intend to exclude any favorites of yours we didn't get to try, but we just have to share some of ours. We ate more than once at Half Shell Oyster House. Try The Royal Reds, deep water shrimp with lobster-like flavor served with drawn butter. Go with the Shrimp Orleans if you need to spice up your life. Our favorite sides were the Cajun Boiled Parmesan & Garlic Fried New Potatoes (a mouthful in more ways than one) and the Sweet Potato Crème Brulee. Yes, this is a side, but I must confess that, after one bite, I decided to save mine till last and have it as dessert!
Sometimes you go to the food, and sometimes the food goes to you. We ordered delivery from Merlin's Pizza, whose motto is, "Life is too short to eat corporate pizza." This eatery has been in Destin since 1999 and is 100% local. Whether you like plain and simple or a custom specialty pie, we judged ours to be excellent quality and were quite impressed with the yummy seasoning. They also do cheese breads and tasty salads.
With locations at Crab Island and Destin Harbor, Dewey Destin's is a local favorite as well. We sat outside and enjoyed the sea breeze and a view of all the water activity as we dined. Let them eat cake! Fried Jalapeño Cheese Grit Cakes and Crab Cakes to be more specific! A favorite lunch special is the Boat Grade Shrimp Basket. Available fried, blackened, or bronzed (say butter-based), this is very good Gulf caught shrimp of mixed sizes.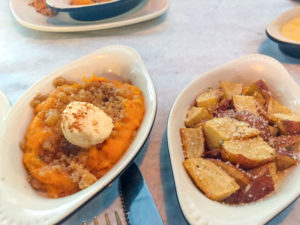 A newer addition to the dining options is Mimmo's Ristorante Italiano, featuring fresh, authentic dishes full of flavor and color. The large menu offers quite a variety of choices, including pastas, pizzas, calzones, and (of course) Italian seafood dishes. They are known for their famous Italian Garlic Rolls served with a garlic butter sauce, but our favorite dish was the chicken parmigiana. Magnifico!
From delicious dining that satisfies your physical being to the ocean waves that satisfy your spiritual one, Destin is a "Destin-ation" the entire family will enjoy!