Photos by Libby Rogers
To generations of students, colleagues, and community members, she is simply known as Mrs. Martinez.
She has been working with the Huntsville Independent School District for the past 26 years and has become a staple in the community. After retiring in 2017, she took a couple of years off to take care of her grandchildren, then in 2019 decided to return to teaching. She is the daughter of Mexican immigrants who came to the United States in the early 1960s. With the help from his employer at the time, her dad was able to apply for residency for the whole family. According to Maria, her parents, Raul and Paula Escamilla, were both from the state of Nuevo Leon in Mexico. "When my father first came to this country, he began working as a 'bracero', which is basically a Mexican laborer permitted into the U.S. to legally work as a contracted seasonal agricultural worker. We lived in various places prior to settling in Stratford, a small town in the Texas Panhandle. This is where I grew up and graduated from high school in 1980. Needless to say, I've lived in Texas my entire life," said Maria.
What brought you to this area?
It was in the early 80s, a couple of years after graduating from high school. My brother Jose Luis was working at an oil company in the Houston area, and my dad was between jobs at the time, so he convinced my parents to come to Huntsville and try things out here. Once my dad found a job, they decided to stay. My parents always believed in family unity, and it was very important to them to keep the family together. When they realized there was a university in Huntsville, they persuaded my sister and I to come down and join them. Soon after, my sister and I got on a Greyhound bus and rode to Huntsville. I've been here ever since.
Rather than going to school right away, I ended up getting a job. I actually worked doing different types of jobs, from working at a grocery store to a donut shop, then at a car dealership. That's where I met my husband, Jose D. Martinez. In 1985, we got married, and later had our three beautiful children: Pedro, Alonso, and Crystal. They are all grown now and living in the Austin area. We've been very blessed with wonderful children.
When did you decide to become a teacher?
Once I was married and had all three of my kids, I began working at Huntsville Independent School District as an instructional assistant. Then one day, I walked into the teacher's lounge, and there was an announcement on the bulletin board about continuing education. I asked my principal about it, and she said that if I wanted to get certified in teaching, the district would pay for my education. There was an increase in the Hispanic population in this area, so there was a need for bilingual teachers, and as an incentive, the school district was offering this opportunity to prospective teachers. For me, it was very important to be able to spend as much time with my children as possible, and this seemed like a perfect opportunity. It just made sense to do this. I figured I could continue working, get my degree, and still get to spend time with my children. I took a leap of faith and enrolled in the program at Sam Houston State University. I went to school half a day and worked during the other half. Juggling a full-time job, being a wife and mother, and going to school was not easy, but I was determined.
In 1997, I received my degree with a Bachelor's in Academic Studies and was certified to teach first through eighth grade, which (back then) was earned as a lifelong certification. I do not have to renew this certification, but once I began teaching, the program was moved around, and I was asked to teach kindergarten, so I had to go back and get certified in Early Childhood. This particular certification is renewable every 5-7 years.
Throughout my time with HISD, I've taught first and second grade, and I've worked at various schools within the district. I started at Gibbs Elementary, then transferred to Sam Houston Elementary, and also worked at Scott Johnson. Currently, I am teaching kindergarten at Stewart Elementary.
Was being a teacher your first career choice? Looking back over the years, why do you suppose you've stayed in this field for so long?
No, it was not my first career choice. In fact, when I first began going to college at West Texas State University, I was majoring in accounting. I always thought I wanted to be an accountant, but I truly feel that teaching is what I was meant to do. God knew where I needed to be, and he put me at the right place and at the right time. I also think others saw I was meant to be a teacher, even before I knew it myself. When I was in sixth grade, our school had migrant kids coming through town, and since I was bilingual, the teachers would ask me if I could stay during recess and help them out to teach these kids. Every year thereafter, I continued helping out during my study hall and recess, until I graduated from high school. During my last year, I was teaching seven kids. It was a very rewarding experience, and I often wonder whatever became of those students.
As far as why I've done this for so long, I would have to say it's my love for children and the relationships I've built with my students throughout the years. Building strong relationships with our students and their families is important–so we are all on the same page, and to ensure their educational success. I do wonder sometimes if I've made an impact on my students' education, but then I run into some of my former students, and they thank me for being their teacher and tell me I've inspired them to continue with their education. It's at these moments, I realize I've made the right choice, and I am definitely influencing their lives. It is very satisfying and reassuring to know your students are successful–to know that, as a teacher, you've been able to positively affect your students' lives and that, in some small way, you've helped shape their future.
Today, more than ever, there is a newfound appreciation and gratitude for educators. Throughout the COVID pandemic, every household has been able to get a glimpse of what "A Day in a Teacher's Life" is like. What challenges have you had, and in what ways has COVID impacted how you teach in 2020?
For me, technology has been the biggest challenge. Fortunately, we've all been working together to make sure our students receive the education they deserve. Teachers, students, and parents–we've all had to delve into technology like never before. Doing virtual lessons and teaching online has been challenging, but all in all, it has been a good experience. I think we are all learning a lot.
The classroom dynamic is a little different because of COVID. Whereas before, our ratio of students per classroom averaged around 21, I currently have 10 face-to-face students and 3 online students who are learning from home. For those students who do not have internet access or devices, the district is providing that to them, so they are able to attend school and do their lessons.
Our schools are taking all the necessary precautions to make the school experience and environment as safe as it can be for our students. We do this by social distancing, disinfecting surfaces, and requiring everyone to wear a mask.
Tell me about the Bilingual Education Program. Does teaching bilingual courses differ from teaching regular classes? And, is it more difficult?
The Bilingual Education Program is for students trying to learn a second language. All second language learners need a good base foundation in their native language to make an easier transition to the second language. We implement conversational English when they come into the classroom, which makes the transition a lot easier.
It doesn't differ much, nor is it more difficult because we teach the same basic core courses. Language Arts and Math are taught in Spanish. Academic Vocabulary is taught in English, and Science and Social Studies are taught in English with support in Spanish. We also have an Early Exit Program, which essentially gives students the option to "test out" from the bilingual program and go to regular English classes once they are ready.
Would you say education has been important in your life, and if so, why?
Yes, education has always been important in my life. My parents were big advocates for education. Even though neither of them had a high level of formal education, they recognized the importance of getting a good education. They wanted my siblings and I to get college degrees, and through their sacrifice and support, we were all three able to do that. As an educator, I try to stress the importance of education to my students.
What advice would you give someone who wants to be a teacher?
My advice to future teachers is to teach from their heart. As written in Romans 12:7-8, "If your gift is serving others, serve them well. If you are a teacher, teach well. If your gift is to encourage others, be encouraging. If it is giving, give generously. If God has given you leadership ability, take the responsibility seriously. And if you have a gift for showing kindness to others, do it gladly."
As teachers, we have the opportunities to serve, teach, encourage, give, lead, and be kind. If we use these opportunities wisely, we have the ability to not only impact our students' learning, but to prepare them to use their gifts well in their future.
When you are not at work, what do you enjoy doing?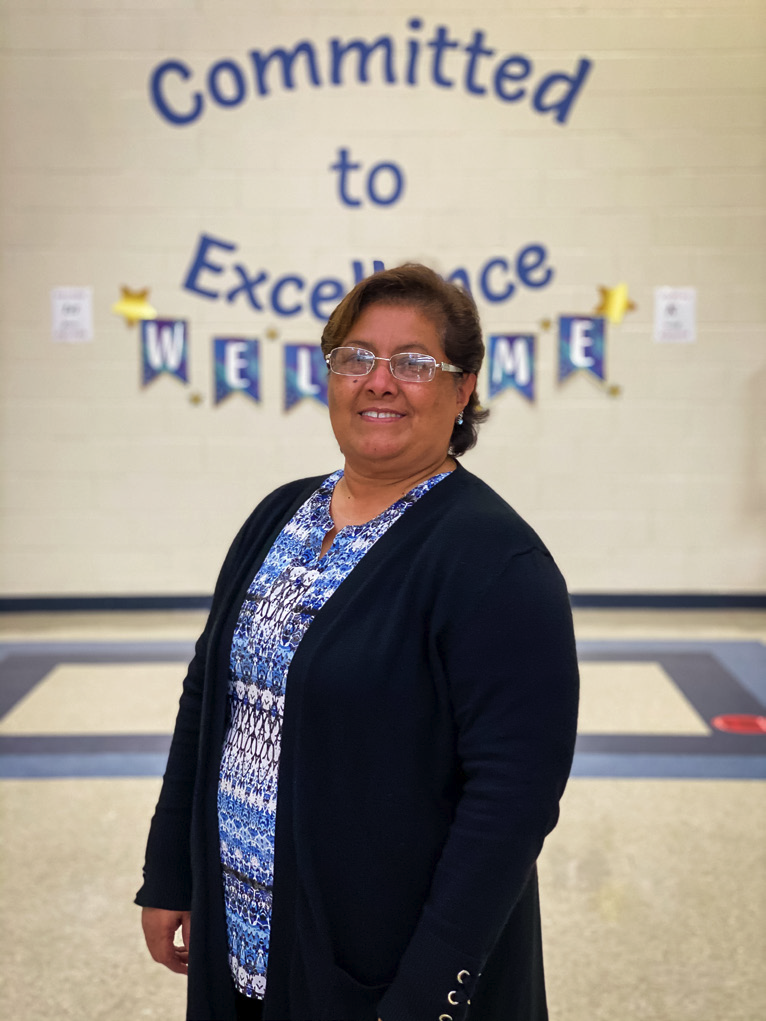 I enjoy spending time with my husband, children, and three grandchildren, and getting together with family and friends. I also enjoy singing and dancing.
Martinez has dedicated her life to teaching and has been instrumental in the educational success of countless students who have attended HISD. She has also been a positive attribute to the community as a member of Saint Thomas Catholic Church, and as a member of the church choir. She also taught CCE classes for 6 to 7 years. She is a member of the Ballet Folkloric of Huntsville, a member of LULAC of Huntsville, and in 2013, she received the LULAC Community Amigo – Educator of the Year Award. When her kids were still attending HISD, she was a soccer mom, taught Boys & Girls Club learning after school studies for several years, and also taught Adult ESL to adult learners in the Huntsville community for 16 years.