Photos by Gina Turner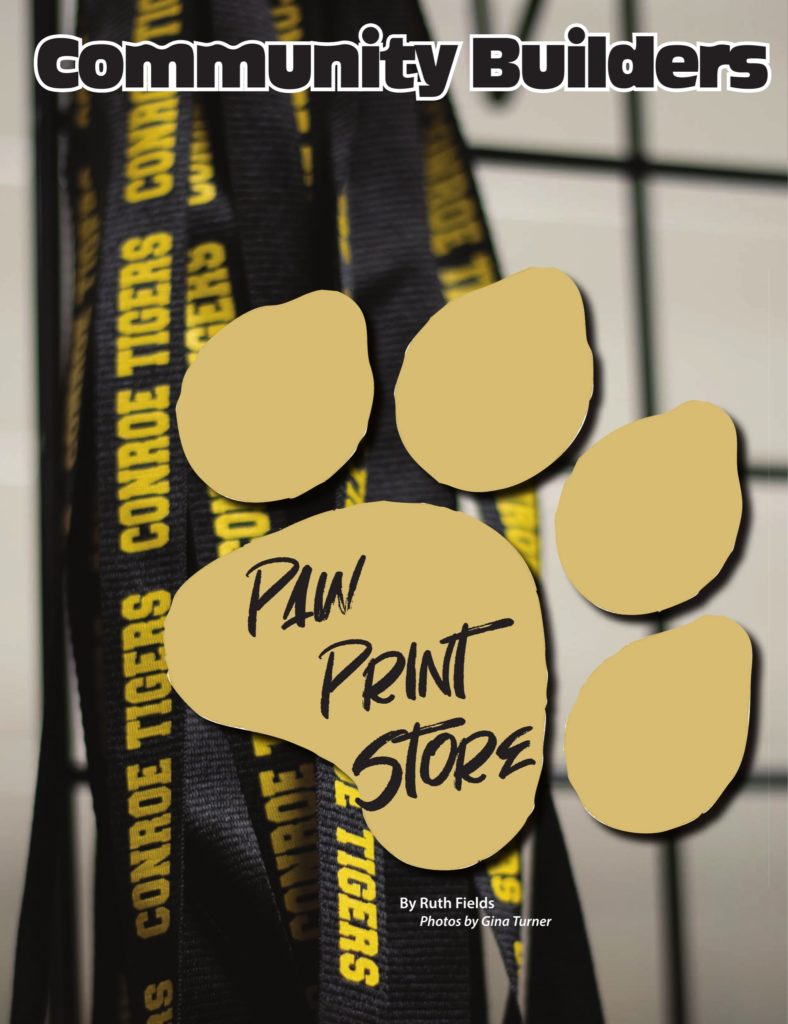 "Coach"
After earning a degree in sports management at Texas A&MUniversity, Katheryne Hinze worked in the field of college athletics marketing for five years. Then she became a track coach, first at the junior high level, and later at Conroe High School. She was the girl's head track coach for four years. When a business teacher retired after the fall semester of 2018, Hinze left coaching to take over that teacher's classes. Hinze's students still call her "Coach," she says. "I tell them 'I still coach you, it's just in a different way—in operations and marketing.'"
Meanwhile, Tasha Smith, CHS principal, wanted to start a project-based research class in marketing as part of the school's
Career and Technical Education (CTE) program and thought of Hinze because of her background in marketing. CTE students can choose several pathways, Hinze explains, such as criminal justice and cosmetology, but CHS lacked classes in marketing. Over the next few months, Smith and Hinze worked with district CTE administrators Dr. Matthew Clark and Greg Shipp, and the idea for a school store was born. Counselors directed qualified students to enroll; over the summer, Hinze prepared for her classes.
School started on August 15. After a few days of quick training, the Paw Print Store held a soft opening in conjunction with the first CHS spirit week. Spirit weeks, which are held before each home football game, are themed. The first week's theme was camouflage, so in addition to Tiger Pride City-Wide T-shirts, Hinze's project-based research classes sold camo T-shirts. e soft opening was enormously successful, and camo shirts were reordered twice. Customers were "generally excited" about having a place to buy CHS gear, says Trevarius Harmon, a junior. "They ask for certain items and want to know when we are going to get them in."
While planning for the store's grand opening on September 17, students learned more about running a retail store. Hinze has two classes that split the duties of running the Paw Print Store. Her fourth-period class decides which products will be offered, designs T-shirts, works with vendors, keeps track of inventory and handles marketing. Her fifth-period class concentrates on sales techniques and customer service. Fifth-period students man the store, running the cash register and managing the point of sale system so inventory can be tracked. As much as possible, the store operates just like any retail store would. It even charges sales tax. e Paw Print Store is now open during lunch several days a week.
"This is the best class in the school," says Damaria Randolph, a junior who is new to CHS this year. He says he particularly enjoys interacting with fellow students. "You get out of your comfort zone. I am a quiet person, and this makes me have to speak and interact with people," he says. "It brings you out of your bubble and gives you experience in the retail business."
Color Wars
Inspired by the success of camo T-shirts, Hinze's fourth-period class got to work. They used Twitter polls to conduct market research, gauging students' willingness to buy certain products, as well as their color preferences. They also began working on merchandise for the next spirit week, which was held in conjunction with homecoming. the theme was "color wars," and each grade level was assigned a color. Karina Baca, a junior in Hinze's fourth-period class, had the idea of utilizing a drip design on T-shirts, thinking the drips would remind students of paint. She found a design online she liked, but it had a wolf head instead of the needed tiger head. Students approved Baca's design by vote and worked with a vendor to combine a tiger head with the drip pattern. They had to go back and forth with the vendor several times before they were satisfied with the design. They learned, "Wow. This is a process," Hinze says.
There have been some surprises along the way. While sales of many items have been steady, color war shirts " ew o the shelves," Hinze says, and hoodies sold unexpectedly well right after the store opened, even though temperatures were in the nineties. The experience was educational: the students learned how to analyze sales data so they'd know which sizes to reorder.
While dealing in T-shirts and hoodies, the students are learning other facts about retail businesses. is pleases their principal. Students might not discuss economic matters at home, Smith says, but they are learning them at school. "I'm very proud of them," she says, noting the class discusses real-world issues like budgets, sales, marketing, and product selection. Students also analyze pro ts and price points, while keeping the limited resources of students in mind. It's knowledge that should transfer well to life after high school.
Hinze estimates that 60 percent of her CTE students have college aspirations, but others plan to go directly into the workforce after high school graduation. For that reason, the class was designed to give students viable, marketable skills. "I train them like they are working in a regular store. They see spreadsheets and cash cow statements and have learned how to work off those," Hinze says. " This is their job. They get a grade and my reference instead of a paycheck." Baca, who envisioned the drip design for color war T-shirts, enrolled in the project-based research class because she is interested in marketing. She hopes to
attend Texas A&M University, where she wants to major in business and aspires to own her own clothing boutique one day. One reality she learned through Hinze's class is it's a process to create, design, and price merchandise. "It's exciting seeing the completed product and seeing people buy it," she says. She also learned sales must be made in order to fund future orders. "At first, I didn't think it would be that important," she says, "but we have to be able to reach our sales goal in order to make new products. From that money, we purchase new products."
While Hinze acts as the store's CEO, she insists it is the students' store, and she lets them solve problems accordingly. At one point, she volunteered her fifth-period class to sell football and pep rally tickets so more students would come to the store; class members would, therefore, have more opportunities to practice their sales techniques. When lines got long, students in the fifth-period class devised a way to expedite sales. "They came up with a process," Hinze says. "I let them do it instead of doing it for them. they figured it out."
Taking ownership
Hinze enjoys observing the creativity exhibited in her fourth-period class, as well as the great sales techniques her fifth-period students utilize. She finds it rewarding when concepts "click," and gives credit to her students for being motivated and working hard. " they take pride in their work," she says. " they are taking ownership."
Meanwhile, Smith is pleased that the Paw Print Store, in addition to teaching important marketing concepts, is having a positive effect on school spirit. While students might not have the time or inclination to create homemade spirit day shirts, they can still be a part of spirit days simply by purchasing inexpensive T-shirts at school. " there's no reason not to participate in spirit day," she says. ( the next spirit day has a "blackout" theme, and the Paw Print Store will sell glow-in-the-dark T-shirts and necklaces the week leading up to game day.)
Many of Hinze's students belong to the school's new DECA chapter (formerly Distributive Education Clubs of America), which helps prepare students for careers in marketing, nance, hospitality, and management. Hinze says money generated at the Paw Print Store is currently being used to buy additional merchandise, but in time, she hopes there will be enough pro ts to help defray the travel costs of students who attend DECA competitions and events.
The future of project-based research classes seems secure. Jasmine Ortiz, a junior in Hinze's fifth-period class, noted the
classes have generated interest among other students. " This is new, so everybody wants to know how to get into it," she says. In addition, current class members are already asking if they can take the class again next year, and Hinze predicts future enrollment will be competitive. (Because of the Paw Print Store's small size—about 60 square feet—enrollment is limited to 11 or 12 students per class.) She has noticed students are proud to be a part of the Paw Print Store. "It gives them an exclusive feeling," she says with satisfaction.