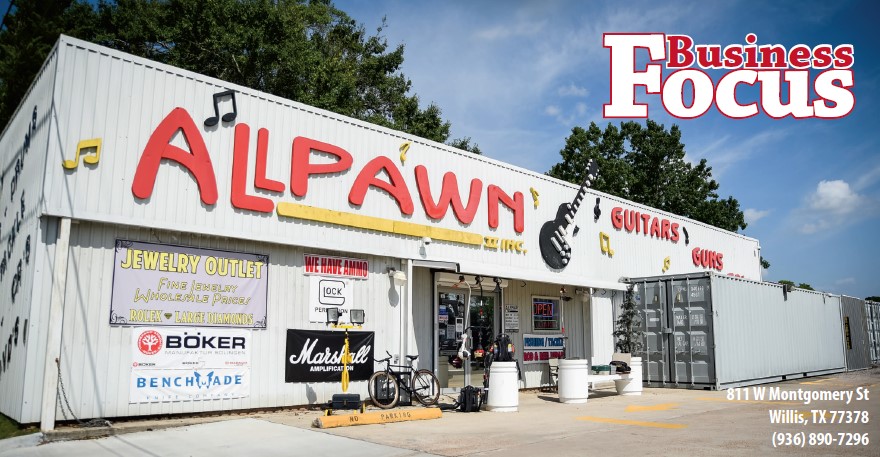 Photos by Libby Rogers
It's the kind of place that goes beyond what people might expect. As customers walk in the front door of All Pawn II, Inc. in Willis, countless new, used, and vintage firearms along the back wall demand their immediate attention. As their eyes roam around the room, they see the store's sister business, Kat's Guitars, which displays hundreds of guitars of every description, as well as many other instruments and accessories. Then,
they usually spot fine jewelry. First-time customers often exclaim, "This is the best-kept secret in Montgomery County!" If people have preconceived ideas about pawn shops, this is a store that can quickly eliminate them. In addition to pre-owned items, it also sells new merchandise, and customers often comment, "Wow! This is the nicest pawn shop I've ever been in," says Bryan Patison, co-owner. "We hear that a lot."
The start of a successful business
In 1992, Marty Patison, a custom jewelry designer, wanted to go into business with her son, Bryan. She had a good selection of jewelry on hand, and Bryan, an avid firearms collector, had inherited a number of firearms from his grandfather. So, starting with a small inventory, Marty and Bryan opened All Pawn near The Woodlands. The business grew and in 2000, they opened All Pawn II in Willis, located on West Montgomery Street near I-45. Since then, the Willis location has earned its own loyal following, and customers travel from Houston, Huntsville, Livingston, Madisonville, Magnolia, and many other locations to shop at the store. In fact, All Pawn II has customers who live all over the country. "Every time they're in town they come here," Bryan says.
Many customers shop at All Pawn because they've heard about its extraordinary selection of firearms. "They say, 'I have never seen a pawnshop with this many firearms,'" Marty says. "When they come back, they bring a friend." The selection of firearms at All Pawn is so impressive, it prompted an auditor from the Bureau of Alcohol, Tobacco, and Firearms (ATF) to say that the store is one of the largest firearms dealers in Montgomery County. All Pawn also has a large inventory of knives, including Benchmade and Böker, as well as double-edged and OTF (out the front) knives that are now legal in Texas.
One of the reasons for the large selection of firearms, Marty says, is that firearms are pawned more often than any other item. About half of All Pawn's inventory, however, is new firearms and the store is a direct dealer for many firearm manufacturers, including Colt, Glock, and Kimber. Bryan is also proud to carry Texas-made firearms, such as F-1 Firearms, made in Spring, Radical Firearms, made in Stafford, and Bond Arms, made in Granbury. "If something is made in Texas, I will go out of my way to try to carry it," he says.
Because All Pawn offers competitive prices, Bryan encourages people to check out the store before going to gun shows. "Half the time, they spend more at the gun show, and they paid $10 to get in," he says. Customers can also find a tremendous variety of ammunition at All Pawn, including some types that are considered hard to find.
Kat's Guitars 2
Kat's Guitars, under the same roof, sells a multitude of guitars and other musical equipment. Kat James Patison, Bryan's wife, is the musical force behind the business. "Troublemaker featuring Kat James" is often heralded as the longest-running, female-fronted rock band in Texas, and Kat is billed as "the Texas legend." The band performs "from Brownsville to Sturgis (South Dakota)," Bryan boasts, often at motorcycle rallies. Kat's Guitars offers guitars made by many well-known manufacturers, including Paul Reed Smith, Cole Clark, Jackson, Takamine, and Fender, as well as its own line of custom guitars that are emblazoned with the Texas flag, the Confederate flag, Kat's signature blue paisley, and many other designs. Local musicians have learned that Kat's Guitars carries just about everything they need, such as amps, pedals, strings, and countless accessories. In addition, the store has most orchestra instruments and offers a rent-to-own program that is popular with parents of beginners.
Quality jewelry
Many customers know that All Pawn offers wholesale prices on fine jewelry. It has a broad selection of diamonds ranging from one carat to over four carats, and most include the Gemological Institute of America (GIA) appraisals. "Customers come to us to save money on quality jewelry," Marty says, noting that previously-owned jewelry for sale at All Pawn includes such popular brands as James Avery, Pandora and Tiffany, and was originally sold at some of the finest jewelry stores around the world.
Fast, discreet loans
While many of All Pawn's customers appreciate the store's competitive prices on firearms, musical equipment, and jewelry, others know that it is a good place to get a quick loan. A typical customer, Bryan says, is a "standard, middle-class working man" who needs cash for an unexpected expense, such as a failing truck transmission. Items of value, such as firearms or jewelry, can be used as collateral for loans. If loans are not paid off or extended in 60 days, the forfeited items are then sold at the shop.
"A lot of people need help getting from point A to point B," says David Stewart, store manager, and All Pawn specializes in providing that help. In this way, it acts as a "bank for the people," Marty says, granting loans that might be too small for a bank to handle. "Loans are fast, easy, highly discreet and there is virtually no limit to the amount we can loan," she says. "It may be for a single bill, for a vacation, or for a business owner who needs cash to pay his men at the end of the day on Friday. It's our job to make them feel comfortable and to make it convenient for them so they feel welcome when they come here."
Marty and Bryan attribute the success of their business to ethical, responsible and efficient management, not only when granting loans, but also when selling new and pre-owned merchandise. The store has strict policies to ensure that all laws are followed, especially those that pertain to the sale and purchase of firearms. Even though it is not required by law, All Pawn's store policy is to only sell firearms with pistol grips to customers who are at least 21 years old. All Pawn also has prominent security, using more than 20 active cameras throughout the interior and exterior of the store.
Customers seem to appreciate this attention to detail and tend to visit the store again and again. David regularly sees customers who have been coming to the store the entire 13 years he has worked at All Pawn. "I know them by name," he says. Some customers come every week to see what additional merchandise is for sale, and recently-acquired items are often sold the same day they hit the display floor.
"New customers constantly discover All Pawn. We are a big boys' and big girls' toy store," Marty says with a smile. "To come here is truly a unique experience. If they haven't been here before, they have no idea what to expect!"
For more information, visit AllPawn2 – Willis and Kat's Guitars2 – Willis on Facebook.